Dear Irina and Semen:

Just an update: We bought a beautiful female & silver tabby persian kitten, around 3/08 from "Furry Dream,
and we wanted to tell you that she is progressing and growing beautifully and is very happy
and getting along with our three older cats who love her and play with her all the time.

We call her Valentina -- here she is on the right napping with Katya
Katya and Sonya (a blue persian female and a chocolate tabby persian female)
were purchased from you, as well, in 2006 and are now two years old and are very happy and healthy also.

Katya Valentina

Best Wishes, MaryAnn and David Inkeles
---

Sent: 11-Nov-2011 18:54:41
THIS IS MARK AND TERR. WE PURCHASED THE LOVELY SEAL POINT FEMALE FROM
LITTER OF BATTYS FROM 4/3/2010. HER NAME IS PANDABEAR AND SHE IS
ABSOLUTLY BEAUTIFUL AND STILL GIVES KISSES!! WE ADORE HER.
GLAD TO SEE ALL YOUR NEW HAPPY KITTENS ON YOUR SITE.

PANDA
---

Sent: Date: Wed, 12 Dec 2012 17:18:47
In the beginning of November we purchased a kitten from you.
 At the time I told the young girl I would send her a picture.
So here it is. We love him so much. Thank you.
Sincerely,
Glen Mancuso
Exclusive Agent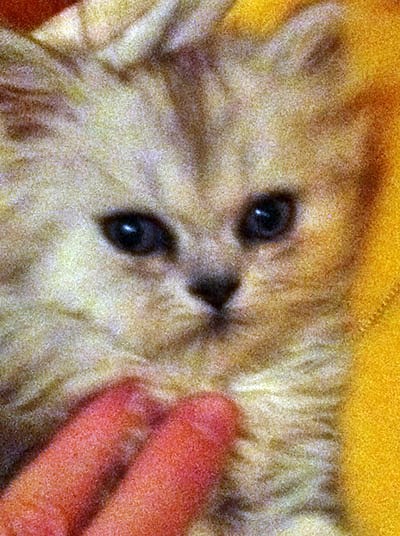 CODY
---

Date:  Sun, 28 Apr 2013 13:23:47 -0400
From: "licombathapkido@aol.com"
Subject: Battys kitten 4/3/10 

Hi Irena & Semen. Just wanted to update you on the black Persian we adopted from you that was a year old at the time from Battys litter!
Her name is Black Onyx. (so sweet) She took a long time to adapt but she finally did thank goodness! Pandabear, her liter mate,  absolutely
adores her from the second they saw eachother again! Panda constantly is cleaning and showing love and affection for her. Panda will also
make sure Onyx eats before her, laying down patiently behind.  They just turned 3 as their birthday just passed! Onyx loves to follow us
around and be right under our feet...she just doesn't like to be held but for a minute but makes a stink to be petted all the time as she will
meow at you and purr! Pandabear is perfect,  constantly into things, eating things, playing with Onyx, loves car rides, getting fresh air
on a harness, as well as constantly yelling at my husband every morning he gets ready for work! "she is spoiled and a bratt"! She knows
when its bed time, yelling at us as she heads up to bed as well as waking us every morning with nudging our hands with her face!
They are very loved and spoiled! I'm glad they get to grow up together! Thank you again, and will give more updates down the line!
Mark & Terr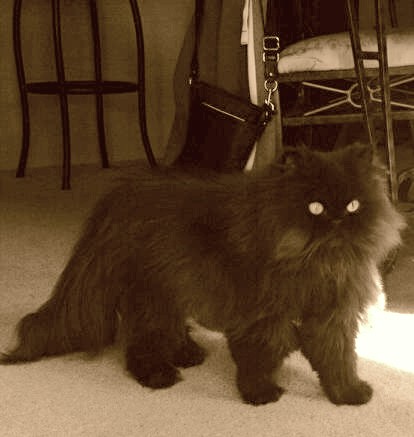 PANDA
---

From: JNCalder@aol.com
Subject: Fwd: Testimonial
At 16:26 9/12/2014, you wrote:
Dear Irina and Semen - My sister mourned for a full year after her cat of twenty years passed away.
She refused to consider a new kitten until I discovered Irinaís website. In June of 2014 she finally
agreed to accompany me to Brookline  ďjust to look,Ē as there were two litters available. She fell
in love, reasoned that two would be better than one because they would keep each other company
during the day when she worked, and had great difficulty narrowing her choice to the two she found
most adorable. Nothing has made my sister happier in many years. The kittens are healthy and
strong and so gorgeous that when they go for checkups at the vetís, the entire office stops
work and comes to ogle and praise. They play constantly, little furballs of pure energy, but never
scratch furniture; and they are gentle and loving and sit quietly on my sisterís lap whenever she can sit.
They are good travelers and she takes them everywhere with her. My whole family has kept cats for
years, but we have never met nicer-tempered animals than these kittens.  Please know that they are in
a loving home where they are the center of my sisterís life and that they have made a huge difference
in the life of one human. Thank you. Jen

---

From: jncalder@aol.com
Sent: 3/25/2015 9:04:31 A.M. Eastern Daylight Time
Dear Irina- I am attaching recent pictures of the two gorgeous kittens I purchased
for my sister last summer. They are happy, healthy, and the most beautiful cats we
have ever seen. They have changed my sister's life. Thank you again.  Jen

---
Follow Mr. Kittyface Persian cream push. Purebred formally known as Mr. Pushkin Kittyface. Est. 04/09/15. Famous. https://instagram.com/mr_kittyface

---

04.14.2016
Dear Irina and the family!
Can you recognize the little cuddly fur balls I've taken from your loving
hands almost four years ago? Look at them now! Purrrrr delight!
Well, there hasn't been a day that would go by, that we wouldn't
tell each other how grateful we are to you for these healthy,
well behaved, most loving and gorgeous creatures! 
My children and I love and adore our cats; the words cannot
describe how much joy and happiness they've brought into our life!
Sweet Irina, your disposition has always been very friendly, kind,
and straightforward. Throughout the years, you've made yourself
available to answer any and all of our questions; you've listened
patiently to any of the concerns, and offered helpful advice along the way.
Also, having visited the cattery several times, I couldn't help but notice
the overall special atmosphere in your house: not only the
communication between the family members had been loving,
affirming, and respectful, but even your beautiful cats were so
mild mannered and affectionate.
Our entire experience at the "Furry Dream" cattery has been nothing
but wonderful and positive; my children and I are really grateful for that.
From the bottom of our hearts, 
Thank you!
Y. and the boys.